Bill Viola has made numerous guest appearances for television, film, and radio. His experience includes appearances on networks such as MTV, NBC, CBS, ABC, FOX, UPN, WB, USA, and ESPN.
Dancing on MTV or in national commercials for companies such as 7-Eleven, he has worked on a variety of programs, with experience on daytime television shows such as Days of Our Lives, talk shows such as Friends or Lovers, and prime time movies such as The Princess & the Marine. (Bill's custom Stealth was also used in the film.)
ACTING EXPERIENCE
UNION ACTOR:
SAG
Screen Actors Guild
AFTRA
American Federation of TV & Radio
Associated Actors & Artistes of America
AFL-CIO
Over the years Viola has served as a spokesperson for campaigns such as "Say No to Drugs" and also has acted as a consultant for documentaries.
He has had the opportunity to meet with some of the biggest names in Hollywood during his career including Arnold Schwarzenegger, Wesley Snipes, Halle Berry, Mandy Moore, Cher, Jennifer Lopez, Carson Daly, Tara Reid, Shosha Alexander, Pamela Anderson, Mark-Paul Gosselarr, Nelly, Sisqo, Busta Rhymes, Mystikal, Dr Dre, Pink, Ananda Lewis, and many others
Viola currently freelances as a talent scout and entertainment entrepreneur. Most recently Viola helped Nick Bateman jump-start his modeling career in Europe. Below is Nick Bateman and Fashion Icon Calvin Klein during the Model Universe competition in Miami Florida. Viola helped coordinate the event.
Nick Bateman & Calvin Klein
Bill Viola Introduces WWE Star Kurt Angle
Viola has also had the unique opportunity to work on location of some of the hottest music videos in the industry! He has shared the set with musical artists such as the Def Tones, Britney Spears, and The Black Eyed Peas.
Viola & Sosha Alexander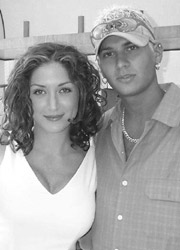 Viola & MTV's Ananda Lewis
Bill Viola has also built an impressive portfolio as a both a fashion and commercial print model, featured on MTV's Hitched or Ditched as a snowboard model.
Ms Fitness Universe, Ice-T, Coco, Viola
His martial arts experience has landed him many national roles as a stunt performer and choreographer for major corporations and institutions such as US Steel, Eckert Seamans Law Firm, The Police Athletic League, University of Pittsburgh, and The Muscular Dystrophy Assoc. Viola also performed stunts for the movie Clock Stoppers, produced by Paramount.