Kumite International Showcase -Miami
The American Sports Network in conjunction with Kumite International is providing a platform for Martial Arts superstars to get discovered and obtain global mainstream media exposure. ASN broadcast's their elite international fitness competitions on 6 major networks worldwide. Kumite International has negotiated to include sport karate in this year's programming. This is a groundbreaking step in the right direction for all sport martial artists to obtain real mainstream recognition. Fitness Universe is a monthly television show with 3-5 broadcasts per month as seen throughout the world including North America, Latin America, Asia, Pacific Rim, and Europe. The global audience reaches over 200 million homes on ESPN International, TSN/RDS Canada, Star Sports Asia, and more.

These Fitness Universe competitions have unparalleled media exposure with magazine coverage including features in Oxygen, Fitness Rx, Maxim, Rolling Stone, and Cosmopolitan. Popular television shows like NBC's Life Moments, CBS's Meet the Folks, Extra, were among the attendees for the 2003 event season.

The 2004 Miami Martial Arts showcase included a contemporary forms/weapons division to feature many of the best open competitors in the country. The competition will be filmed for ESPN International with highlights featured in the Fitness Universe television program.

Kumite International (KI) is the premier organization in The United States dedicated the growth, advancement, and recognition of martial artists through the development of public relations and entertainment projects. The organization offers a strong unified voice promoting sport karate's rising stars into mainstream society while helping those athletes obtain financial aid, endorsements, sponsorships, media exposure, and world-wide advancement opportunities. KI operates daily to help rectify the injustices and obstacles contemporary sport karate athletes face through the establishment of educational scholarships, the sponsorship of travel teams, and the implementation of an extensive competition circuit. KI is structured to unify sport karate leaders, while providing an open forum for communication and new ideas. The organization harnesses a powerful network dedicated to promoting the unsung heroes of Marital Arts, and pave the way for future champions. Kumite International's innovative ideas and projects are devoted to the recognition and progress sport karate within a non-partisan and professional atmosphere.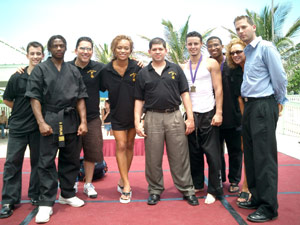 Miami Showcase Adult Champions
A Few of the Showcase Performers

Jason Bourelly, CJB

Daniel Sterling, Paul Mitchell

Mike Cifre, Team Sansei

Richard Bichara, Team Sansei

Nick Shilling, K.I.C.K. Team

Nick Bateman, Canadian Karate Alliance

Sammy Vasquez, Straight Up

Joshua Quartin, Team Sansei

Jennifer Espina, Team Sansei

Becca Ross, Team J. Phillips

Tegan Issartel, Team Sansei

Elizabeth Sipes, Straight Up

JJ Perez, GOP

Chad Cannon, GOP

Adam Faldetta , Team Chat

Chris Gallio, GOP TV Interview

Allan Torres, kumite International Referee

Bill Viola, Director